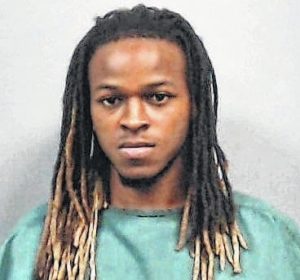 Newberry, S.C.; May 19, 2017 – Eighth Circuit Solicitor David M. Stumbo announced Friday that a Newberry man was sentenced Thursday to 22 years in prison for the 2016 assault and burglary of an elderly neighbor.Anthony Maurice Wise was found guilty of first degree assault and battery, kidnapping and first degree burglary by a Newberry County jury following three days of trial and just over an hour of deliberation.
Circuit Judge Donald Hocker sentenced Wise to 22 years in prison each on the charges of first degree burglary and kidnapping and 10 years in prison on the charge of first degree assault and battery. The sentences are to run concurrently.
Around 6 p.m. on September 22, 2016, Wise went to the home of a 73-year-old neighbor and lay in wait in the seat of her car for her to come outside. When the victim opened the door, Wise kicked her in the chest and forced her into the house, where he bound her with duct tape and telephone cord. Wise then demanded money and property.
Wise forced the victim into her car and drove her to an ATM where he demanded money before returning to her home and demanding more money and property.
Wise fled the scene in the victim's car, which was later discovered at an old lumber yard on Boyd Crossing Road.
The victim was able to loosen her bindings and call 911 after Wise left the home. The victim suffered a broken collar bone among other injuries during the incident.
Deputy Solicitor Dale Scott and Assistant Solicitor Taylor Daniel handled the case for the state with assistance from 8th Circuit Solicitor's Office Investigator Walter Bentley.
Wise was represented by Charles Verner of the 8th Circuit Public Defender's Office.
Solicitor Stumbo praised the work of his staff along with Capt. Robert Dennis and Sgt. Ryan Dickart of the Newberry County Sheriff's Office in securing the conviction.
"It is reprehensible to see a young punk like Anthony Wise commit such a crime against anyone, especially a defenseless, elderly woman," Solicitor Stumbo said following the sentencing. "The way a person treats the elderly is an excellent barometer of his or her character and I am glad to see that this man will be in prison for a long time to come."