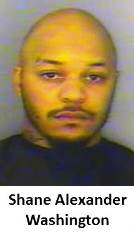 Eighth Circuit Solicitor David Stumbo announced Wednesday afternoon that an Abbeville jury has found Shane Alexander Washington, age 29, of Greenwood, South Carolina, who failed to appear in court and was tried in his absence, guilty of criminal sexual conduct with a minor first degree.  Before the trial, a Bench Warrant was issued for his arrest for failure to show for his initial trial scheduled in December 2014.
Due West Police officers arrested Shane Alexander Washington on March 18, 2011 after investigating incidents between the dates of July 1 through September 2, 2010, wherein he committed the offenses of criminal sexual conduct with a minor seven years of age.  These incidents took place at 97 Carver Street Ext., within the Town of Due West, County of Abbeville.
Solicitor Stumbo praised the work of prosecutors Lance Sheek and Yates Brown who presented the case for the state at trial, along with the Solicitor's Office Investigator Windy Chappell.
Circuit Court Judge Lawton McIntosh sentenced Washington to a range of 25 years to life in prison.  The exact term of the sentence will remain sealed, as is required by law, until Washington is apprehended and brought back before the Court for publishing his sentence.
Shane Alexander Washington is now a convicted sex offender and fugitive from justice. Washington's last address was 110 Dorchester Street, Greenwood, South Carolina.  He is 29 years of age, weighs 182 pounds, 6 foot tall, brown eyes and black hair.  He reportedly last seen in both and Anderson and Richland counties.  He has multiple tattoos on left and rights arms, hands and fingers, "LOVE" on the left hand fingers, index through pinky, foot prints and a star on his left hand.  He also has a tattoo on his forehead, left and right legs.
"Our office will continue to fight for and protect the children of this community, and bring the full measure of justice upon those who abuse them," said Solicitor Stumbo after the verdict.  "I encourage anyone who may know where Shane Washington is located to contact law enforcement immediately so that he may be apprehended and face his sentence."