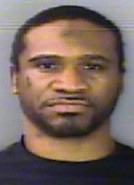 Greenwood, S.C.; September 21, 2017 – Eighth Circuit Solicitor David M. Stumbo announced Thursday that a Greenville man received the maximum sentence after pleading guilty to calling in a bomb threat to a local women's shelter.
Rahim Aadil Taqwa Abdullah, 44, of Greenville, pleaded guilty Thursday morning at the Laurens County Courthouse to charges of conveying a bomb threat and stalking. Circuit Judge Donald Hocker then sentenced Abdullah to 10 years in prison, the maximum sentence allowable under state law.  Abdullah's case was scheduled to be the first up for jury trial in the upcoming term of General Sessions court in Greenwood.
In August 2015, Abdullah called in a bomb threat to Meg's House Shelter for Abused Women and Children. Abdullah's former girlfriend was a resident at the shelter. An employee at the shelter was in the middle of transcribing a recorded call with Abdullah in which he claimed to be an agent with the State Law Enforcement Division when Abdullah called in the bomb threat.
The incident has had a lasting impact on the staff and residents of Meg's House, according to Alice Hodges, Executive Director at Meg's House.
"I hope that Mr. Abdullah's guilty plea means that he accepts responsibility and understands that his actions had detrimental effects on the staff and the residents at Meg's House," Hodges said following the proceeding. "In addition, hopefully he will not repeat those actions ever again."
Assistant Solicitor Josh Thomas prosecuted the case for the state. Abdullah was represented by Carson Henderson of the Greenwood County Bar.
Solicitor Stumbo praised the work of his staff along with Lt. Mike Dixon and Det. Blake Moore with the Greenwood Police Department, and SLED Agent Nick Parker, in securing the conviction.
"It is horrific that this man would even think of threatening violence upon a place like Meg's House, an agency that I have an incredible amount of respect for along with Dr. Hodges and her staff," Solicitor Stumbo said following the sentencing. "We will continue to take the problem of domestic violence seriously in the 8th Circuit, and fight to protect the not only victims of domestic violence from predators like Rahim Abdullah, but also to protect those that pour their lives into giving these victims shelter from the storm."