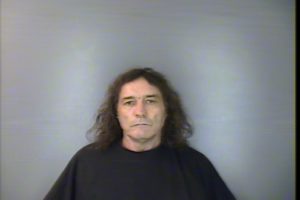 Greenwood, S.C.; November 3, 2016 — Eighth Circuit Solicitor David M. Stumbo announced Thursday morning that a career meth dealer was sentenced to 40 years in prison after a Greenwood County jury found the man guilty Wednesday afternoon on a trafficking charge related to a January 2016 incident.Earnest Vaughn Sr., 57, was found guilty of trafficking methamphetamines, third offense, and unlawful conduct toward a child after the jury deliberated for about an hour.
Circuit Judge Donald Hocker then sentenced Vaughn to 30 years in prison on the trafficking methamphetamine charge and 10 years in prison on the unlawful conduct toward a child charge, with the sentences to be served consecutively.
On January 27, 2016, agents with the Greenwood County Drug Enforcement Unit set up a controlled buy with Vaughn and set up a meeting at the car wash near the Bi-Lo on U.S. 25 N. Vaughn arrived for the buy with his 5-year-old grandson in the back seat of his vehicle. The child was visibly shaken during the incident.
Agents searched Vaughn and the vehicle and found several knives, a set of digital scales and about 20 grams of methamphetamines.
Senior Assistant Solicitor Elizabeth White and Assistant Solicitor Micah Black handled the case for the state. Jane Merrill of the Greenwood County Bar represented Vaughn.
Solicitor Stumbo praised the work of his staff along with Capt. Jarvis Reeder, Lt. Chad Cox and Agents Whitfield Brooks and Bryan Louis along with the rest of the agents with the Greenwood County Drug Enforcement Unit in securing the guilty verdict.
"Clearly, Earnest Vaughn has no regard for himself, his family or his community," Solicitor Stumbo said following the sentencing. "Selling meth, a scourge of our society, is awful enough, but to involve a 5-year-old child demonstrates that he would stop at nothing to spread the disease of addiction across our community. We will continue to fight alongside law enforcement to put drug dealers like Earnest Vaughn behind bars for a long time."