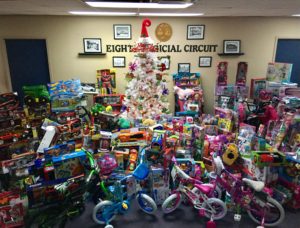 Greenwood, S.C.; December 14, 2016 – Eighth Circuit Solicitor David M. Stumbo announced Wednesday that toys donated through the Eighth Circuit Solicitor's OFfice Intervention Programs were distributed to needy children across the four counties of the Eighth Judicial Circuit.The Eighth Circuit Solicitor's Office Intervention Programs are designed to give a second chance to first-time offenders of non-violent crimes.  These programs consist of counseling, education, community service work and other requirements specifically tailored to the participant and the offense.  
From August through December, Solicitor David Stumbo and his staff encouraged Pre-Trial Intervention (PTI) and Alcohol Education Program (AEP) participants to get credit towards their community service work hours with the purchase of toys for needy children at Christmas.
The Solicitor, in partnership with the Newberry County Sheriff's Office, Laurens County Department of Social Services and several non-profit organizations around the 8th Circuit, including the Greenwood Salvation Army, Abbeville Angel Tree ministry, and the SAFE Home, distributed the stockpile of toys this week to needy families throughout the Eighth Circuit, which is made up of Greenwood, Laurens, Abbeville and Newberry counties.
The toy drive generated several thousand dollars worth of toys, including over 20 bicycles.
"Along with the school supply drive which runs during the first half of each year, our angel tree toy drive gives intervention program participants a chance at giving instead of taking," Stumbo said.  "It gives these men and women a sense of contribution and accomplishment, along with providing an avenue for restoration to the community from their offenses."