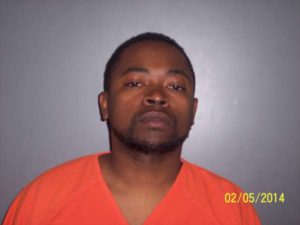 Laurens, S.C.; October 28, 2016 — Eighth Circuit Solicitor David M. Stumbo announced Friday that a Cross Hill man was sentenced to 45 years for his role in the 2014 murder of a man and his niece.A Laurens County jury returned guilty verdicts for Deshanndon Markelle Franks on two counts of murder and one count of possession of a weapon during the commission of a violent crime. The jury deliberated for about eight hours across two days before returning the guilty verdicts.
Circuit Judge Frank Addy Jr. then handed down a sentence of 45 years in prison on each of the two murder charges and five years in prison on the charge of possession of a weapon during the commission of a violent crime. The sentences will run concurrently.
Prosecutors said Franks was the trigger man in the January 31, 2014 shooting deaths of  47-year-old Sammie Dyron Leake and his niece, 24-year-old Nikesha Travarea James.
Also present at the time of the murder was Tevin Oneil Hill. Hill testified against Franks during the four day trial. Hill's charges, which are the same as Franks', are still pending.
On January 31, 2014, deputies with the Laurens County Sheriff's Office went to the Cross Hill residence where both Leake and James were living and found the front door standing open. Deputies were unable to open the door all the way and observed Leake's body on the floor and James' body on the couch. Both had been shot.
Franks and Hill were arrested without incident several days later.
Franks was represented by Jeff Wilkes. Deputy Solicitor Warren Mowry and Senior Assistant Solicitor Lance Sheek handled the case for the state.
Solicitor Stumbo praised the work of Mowry, Sheek and Investigator Walter Bentley of the Eighth Circuit Solicitor's Office along with Lt. Bryant Cheek, Lt. Keith McIntosh and Lt. Ben Blackmon with the Laurens County Sheriff's Office in bringing Franks to justice. Sgt. Dan Kelley of the Greenville County Sheriff's Office also played a large role in securing the conviction.
"There is absolutely no reason that two people sitting peacefully in their own home should have to worry about being robbed, let alone murdered in cold blood," Solicitor Stumbo said following the sentencing. "We must continue to rid the communities of Laurens County and the entire Eighth Circuit of cold-blooded killers like Deshanndon Franks and my office will continue to work with law enforcement to make that a reality on the streets of our communities."