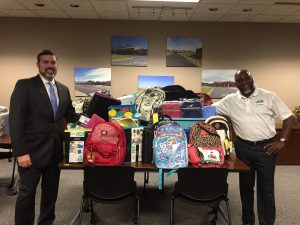 Greenwood, S.C.; August 17, 2018 – Eighth Circuit Solicitor David M. Stumbo continued the tradition of donating school supplies to each school district within the 8th Circuit, which is comprised of Abbeville, Greenwood, Laurens, and Newberry counties.
The supplies are collected from participants in diversion programs, such as Pretrial Intervention, or PTI, and Alcohol Education Program. Participants in the diversion programs can elect to donate school supplies in lieu of a portion of their community service hours.
"This is my favorite part of the PTI program," said Dale Allen, PTI Director for the 8th Circuit Solicitor's Office. "It's a unique opportunity to provide an opportunity for people who have been 'takers' to become 'givers' and experience that good feeling of helping someone who is less fortunate than you."
Each year, millions of school children across the nation arrive at school without the supplies they need to learn effectively. According to recent research conducted by Kids in Need Foundation, a nonprofit organization whose stated mission is to provide school supplies for needy children, having access to school supplies led to significant increases in participation, social interaction, homework completion, and self-esteem.
According to Solicitor Stumbo, the school supply donations are at the very heart of his office's mission.
"The mission of my office is to balance accountability with restorative justice, and the school supple donation program enables program participants to put their lives back on track to being productive, law-abiding citizens," Solicitor Stumbo said. "What I love about this program is that one act of kindness changes two lives at once. It blesses a child with much-needed school supplies and gives the program participants the opportunity to experience the joy of giving."