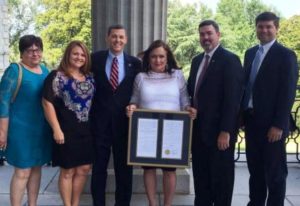 Columbia, S.C.; June 6, 2016 – Eighth Circuit Solicitor David M. Stumbo announced Monday that the South Carolina House of Representatives recognized Mary Ann Stroup for her nearly quarter century of service as a victim advocate."Mary Ann is a remarkable lady who possesses a true passion for serving others," said Deputy Solicitor Yates Brown. "It is an honor to work with such a wonderful person."
The State House of Representatives unanimously passed the following resolution last week:
TO HONOR MARY ANN GOLDMAN STROUP OF GREENWOOD FOR TWENTYFOUR YEARS OF OUTSTANDING SERVICE AS A CRIME VICTIM/WITNESS ADVOCATE, CHILD AND VULNERABLE ADULT ADVOCATE, COMMUNITY SERVANT, AND PROFESSIONAL EDUCATOR AND TO THANK HER FOR HER UNTIRING EFFORTS TO ENHANCE THE PROFESSION OF SERVICES FOR SOUTH CAROLINA'S VOICELESS VICTIMS.

Whereas, it is with great pleasure that the South Carolina House of Representatives honors individuals who give of their time and resources for the good of others; and

Whereas, among such caring individuals, Mary Ann Stroup stands high in the respect and admiration of her fellow citizens for her service to the people of Greenwood County and beyond, especially children, vulnerable adults, and elderly crime victims; and

Whereas, born the daughter of Helen Williams Goldman and Ashley Dean Goldman, this lifelong resident of Greenwood County graduated from Ninety Six High School. In time, she met and married her beloved husband, Richard A. "Dick" Stroup, and she is the proud mother of four and grandmother of seven; and

Whereas, a woman who combines her gift for empathy with strength and knowledge, Mary Ann began her career in victim services as an administrative assistant to Sheriff Sam Riley of Greenwood County in 1992; and

Whereas, to increase her ability to serve crime victims, she became the director of victim services at the Greenwood County Sheriff's Office and served there with distinction for eighteen years. During this time, she received many awards for service and developed outstanding procedures for serving crime victims at all levels "twenty-four/seven." At the same time, she mentored and supervised five staff members; and

Whereas, Mary Ann was instrumental in developing the Law Enforcement Victim Advocate Organization, a group of law enforcement ased victim advocates for South Carolina. Presently, she serves on the governing board of the South Carolina Victim Assistance Network, as well as the oversight board of DSS for Greenwood, and she has been instrumental in developing protocols for service throughout the State. She also has mentored countless fledgling victim advocates; and

Whereas, she became the victim/witness advocate at the EighthCircuit Solicitor's Office in January 2013, where she has distinguished herself in service to her fellow man, with a focus on those less able to help themselves; and

Whereas, the House of Representatives, grateful for the consistent commitment and excellence Mary Ann Stroup has bestowed on the people of South Carolina, takes great pleasure in wishing her well as she continues to serve. Now, therefore,

Be it resolved by the House of Representatives:

That the members of the South Carolina House of Representatives, by this resolution, honor Mary Ann Goldman Stroup of Greenwood for twenty-four years of outstanding service as a crime victim/witness advocate, child and vulnerable adult advocate, community servant, and professional educator and thank her for her untiring efforts to enhance the profession of services for South Carolina's voiceless victims.
Stroup was honored last Wednesday at the State House in Columbia and presented with a copy of the resolution while standing at the rail in the gallery of the House chamber.  The resolution was read into the record from the Speaker's podium by District 13 Rep. Shannon Riley.  Riley was honored with presiding over the House on Wednesday morning in recognition of his four years of service in Columbia.
"I am humbled and honored to receive such recognition from those who I have tremendous respect for and have worked very closely with through the years in serving victims of crime," Stroup said of the honor. "I consider it a privilege to have the opportunity to work in a job that I truly love to do."
Stumbo said victims in the 8th Circuit as well as the attorneys and staff on the circuit are very fortunate to have an advocate like Stroup.
"Mary Ann (Stroup) is the gold standard for victim advocates in our state and am I glad to have her fighting for crime victims that come through the 8th Circuit Solicitor's office every week," Solicitor Stumbo said. "It is quite an honor for Mary Ann and special to see all of her hard work being recognized by Rep. Riley and his colleagues at the State House."
Photo Cutline: Pictured, from left to right, are Abbeville Court Administrator Julie Davenport, Office Manager Jami Steifle, Rep. Shannon Riley, Victims Advocate Mary Ann Stroup, Solicitor David M. Stumbo, Deputy Solicitor Yates Brown.