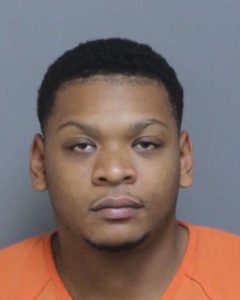 Laurens, S.C.; February 1, 2017 – Eighth Circuit Solicitor David M. Stumbo announced Wednesday that a Clinton man was sentenced to 20 years in prison for breaking into a home in 2012.Keaston Kinard, 23, was found guilty Wednesday afternoon of first degree burglary, safecracking and grand larceny following a two-day trial at the Laurens County Courthouse.
Circuit Judge Frank Addy sentenced Kinard to 15 years in prison on each of the charges of first degree burglary and safecracking, with the sentences to run concurrently. Addy sentenced Kinard to five years in prison on the grand larceny charge and ordered that sentence to run consecutively to the sentences on the other two crimes.
First degree burglary is considered a violent crime under South Carolina law and Kinard must serve a minimum of 85 percent of the sentence, or about 12 years and nine months, before being considered for parole.
On June 23, 2012, Kinard broke into a home on Thornwell Street in Clinton. The victims were vacationing at the time. Kinard smashed a window and gained entry to the house through the back door. Kinard took a safe with guns, jewelry and other personal items from the house and stole a truck at the house to transport the safe away from the scene.
Investigators were able to lift a print from the broken glass, which State Law Enforcement Division analysts were able to match to Kinard.
Deputy Solicitor Dale Scott and Assistant Solicitor Jim Todd handled the case for the state, with assistance from Eighth Circuit Investigator Walter Bentley. Kinard was represented by Joel Broome of the Eighth Circuit Public Defender's Office.
Solicitor Stumbo praised the work of his staff along with the work of Lt.Casey Jones, Lt. Tyrone Groggins and Sgt. Phillip Wicker of the Clinton Department of Public Safety with securing the conviction.
"A family should be able to go on vacation without having to worry about a thief breaking into their home and taking their belongings," Solicitor Stumbo said following the sentencing. "I am proud of my staff as well as partners in law enforcement for working together to rid our community of a first-class thief like Keaston Kinard. My office will continue to vigorously prosecute any and all persons who pose a threat to the peace and tranquility of the communities of the Eighth Circuit."