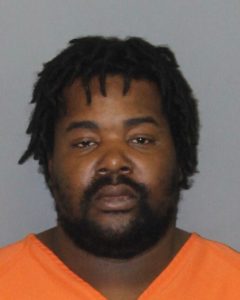 Laurens, S.C.; December 15, 2016 – Eighth Circuit Solicitor David Stumbo announced Thursday that a Laurens County heroin dealer whose product was linked to numerous overdoses in early 2015 was sentenced to 25 years in prison following a two-day trial.A Laurens County jury deliberated for less than 20 minutes before finding Terrance Edward Stewart, 39, guilty of trafficking heroin, distribution of heroin and possession of oxycodone.
Circuit Judge Frank Addy Jr. sentenced Stewart to 25 years in prison for trafficking heroin, 10 years in prison for distribution of heroin and five years in prison for possession of oxycodone, with the sentences to be served concurrently.
In early 2015, a rash of overdoses flooded Laurens County. It was determined that the overdose cases had ingested a combination of heroin and fentanyl. A law enforcement investigation led investigators to Stewart. Investigators purchased a quantity of heroin from Stewart which tested positive for heroin and fentanyl.
In January 2015, deputies with the Laurens County Sheriff's Office served a search warrant at Stewart's home. In the home, deputies discovered Stewart in the home with his wife and two children. Deputies also discovered 56 oxycodone pills wrapped in tin foil and more than 23 grams of heroin mixed with fentanyl. Deputies also located the government funds used in the controlled buy.
A State Law Enforcement Division chemist testified that heroin is 30 times more potent than morphine and fentanyl is 30 times more potent than heroin. Mixing heroin with fentanyl is three times more likely to result in an overdose, the chemist testified.
At the time of his arrest, Stewart was on house arrest awaiting sentencing as the result of a drug plea in federal court. The plea took place on November 28, 2014.
Deputy Solicitor Dale Scott and Assistant Solicitor Jim Todd handled the case for the state. Stewart was represented by Greenwood attorney Rauch Wise.
Solicitor Stumbo praised the work of prosecutors as well as Eighth Circuit Investigator Walter Bentley, Sgt. Matt Veal of the Laurens County Sheriff's Office and Officer Steven Sweat of the Laurens Police Department with securing the conviction.
"Terrance Stewart clearly proved he had no regard for the lives of others by peddling such a dangerous poison on the streets of the community as well as doing so right in the presence of his two young children," Solicitor Stumbo said. "While I regret that so many people had to overdose, I am more than satisfied to see this menace to our society put behind bars for the next 25 years."