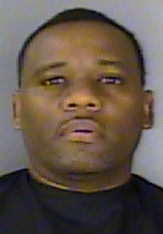 Greenwood, S.C.; March 14, 2017 – Eighth Circuit Solicitor David M. Stumbo announced Tuesday that a Greenwood man was sentenced to 20 years in prison following a string of burglaries that occurred across north Greenwood in 2015.Gregory Harrison entered a guilty plea Monday morning just before he was scheduled to stand trial on more than 35 burglary related charges. Harrison pleaded guilty to five counts of second degree burglary.
Circuit Judge Frank Addy Jr. sentenced to Harrison three consecutive terms of 10 years in prison, suspended to a total of 20 years in prison followed by five years of probation upon release.
Harrison committed a host of burglaries that started in late December 2014 and continued through his arrest in April 2015. The burglaries occurred in the area of Deadfall Road and Northside Drive in the northern area of Greenwood. Each of the burglaries involved a back or side door being kicked in during periods of time when the homeowners were gone. Items stolen included valuable jewelry, silverware, weapons and other items of value.
Investigators were able to connect Harrison to the crimes with footwear impressions, tire tread left by a 2002 Chevy Avalanche and, ultimately, a GPS tracking device that led investigators to Harrison on the night of April 1, 2015. Harrison had been using his tree service business to scout residences which he would later return to burglarize.
Solicitor Stumbo and Assistant Solicitor Micah Black handled the case for the state with assistance from Eighth Circuit Investigator Courtney Smith. Harrison was represented by Greenwood attorney Andrew Hodges.
Solicitor Stumbo praised the work of investigators with the Greenwood County Sheriff's Office, particularly Investigators Ricky Madden, Dale Boyer, Scott Russ, Donchell Hill, Matt Emery and Ronnie Powell.
"The rash of residential burglaries in that part of Greenwood stopped after Harrison was caught and arrested," said former lead investigator for GCSO Capt. Jarvis Reeder.
"Gregory Harrison had absolutely zero regard for the peace and safety that our families should enjoy in their homes," said Solicitor Stumbo following the sentencing.  "We were privileged to assist the Greenwood County Sheriff's Office investigators to close the deal on this large-scale investigation and prosecution, and along with the many victims in this case, are glad to see Harrison's run of greed and disregard for others come to an end."