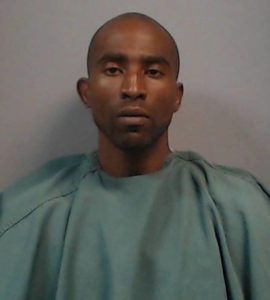 Newberry, S.C.; January 17, 2017 – Eighth Circuit Solicitor David M. Stumbo announced Tuesday that a Newberry man was sentenced to life in prison without the possibility of parole for his role in a 2015 armed robbery that led to the shooting death of a local business owner.Kenny Octavious Ruff was found guilty of murder, armed robbery and possession of a weapon during the commission of a violent crime in connection to the incident. A Newberry County jury deliberated for about two hours before returning the guilty verdicts around 7 p.m. Friday evening.
Circuit Judge Donald Hocker then handed down the sentence of life in prison without the possibility of parole based on the severity of the crime along with Ruff's previous record of violent crime.
On August 26, 2015, Ruff went to Leslie's Hair Salon on Main Street in Newberry and forced the owner, Roberto Facio, to remove the surveillance DVR from its power source. Ruff then forced Facio to his knees and shot Facio execution style in the back of the head from point blank range. Ruff then fled the business with a white trash bag in hand.
Investigators located the bag the following day in the dumpster at a nearby apartment complex. The damaged surveillance DVR was found in the bag along with a shirt Ruff had worn during the crime. SLED was unable to extract the surveillance footage from the DVR and sent it the Federal Bureau of Investigation laboratory in Quantico, Virginia. There, FBI analysts were able to extract the surveillance footage which identified Ruff as Facio's assailant. Other surveillance footage from nearby businesses and additional lay witnesses also placed Ruff at the scene of the crime.
Solicitor Stumbo and Deputy Solicitor Dale Scott handled the case for the state and were assisted by Assistant Solicitor Taylor Daniel and 8th Circuit Solicitor's Office Investigator Walter Bentley.
Ruff was represented by Charles Verner of the Newberry County Bar.
Solicitor Stumbo called the investigation a "perfect example of collaboration" between local, state and federal law enforcement agencies. The investigation was led by Chief Roy McClerkin and his staff at the Newberry Police Department, with Capt. Kevin Goodman, Lt. Michael Kennedy and Sgt. Richard Mercer playing key roles.  Critical assistance was provided by Newberry County Sheriff Lee Foster and his staff, particularly Capt. Robert Dennis and Sgt. Matt Womak, who both testified in the State's case at trial.  Crime scene investigators and lab analysts from SLED also played key roles in the investigation and testified during the trial.  Finally, FBI analysts recovered the hair salon surveillance footage with high-grade equipment not available locally.
The trial, which lasted all week, marked the first week of Solicitor Stumbo's second term as chief criminal prosecutor for Newberry, Abbeville, Greenwood and Laurens counties.
"I can't think of any better way to start my second term as 8th Circuit Solicitor than in the courtroom working hand-in-hand with law enforcement agencies at every level and ridding our community of a hardened criminal like Kenny Ruff," Solicitor Stumbo said. "I am proud of every single public servant involved with this investigation and hope and pray that this life sentence will provide some modicum of closure to the friends and family of Roberto Facio during this very tragic chapter of their lives."