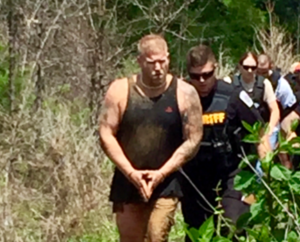 Laurens, S.C.; May 26, 2017 – Eighth Circuit Solicitor David M. Stumbo announced Friday that a man was sentenced to 25 years in prison for the 2016 burglary of a Laurens County residence.Stephen Trase Fincher, 38, was sentenced to 25 years in prison on the charge of first degree burglary stemming from the March 2016 incident.
Fincher was tried in his absence earlier this year after he failed to appear in court for the trial. He was found guilty and his sentence sealed until Friday morning when it was read aloud in court by Circuit Judge Donald Hocker.
Fincher was spotted by Capt. Chris Martin, one of the investigators who worked the case Thursday in Anderson. Martin was in Anderson on unrelated business when he pulled up to a traffic signal next to a moving truck being driven by Fincher. Martin immediately contacted local authorities and followed Fincher to a facility housing storage units.
Fincher spotted authorities surrounding him and drove the moving truck through a fence. A chase ensued and Fincher eventually crashed the truck and fled on foot into some woods. An Anderson County dog tracking team located Fincher and he was placed under arrest.
In March 2016, Fincher went to a Laurens County residence where he burglarized a home where a 16-year-old girl was at home alone. The girl called 911 and gave authorities a description of Fincher and the vehicle Fincher was driving. Authorities apprehended Fincher a short distance from the home. Fincher was able to post bond and fled after being released from jail.
Deputy Solicitor Dale Scott and Assistant Solicitor Jim Todd handled the case for the state with assistance from 8th Circuit Investigator Walter Bentley. Fincher was represented by Lawrence Crane.
Solicitor Stumbo praised the work of his staff as well as the work of Martin, Inv. David Staton and Dep. Robbie Hauphear of the Laurens County Sheriff's Office in securing Fincher's conviction.
"It's always a good day when we put a career criminal like Steven Fincher behind bars for a very long time," Solicitor Stumbo said following the sentencing. "Once again, the old adage that you can run but you can't hide is proven true. My office will continue to pursue those who have no disregard for the law until we secure a conviction."