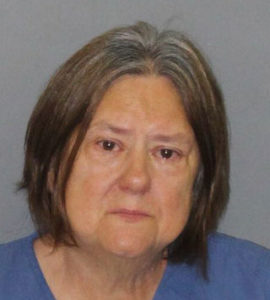 Laurens, S.C.; April 28, 2017 – Eighth Circuit Solicitor David M. Stumbo announced Friday that a Laurens woman was sentenced Thursday afternoon to 14 years in prison for her part in covering up the 2003 murder of James Bolt at the Veterans of Foreign Wars building in Laurens.A Laurens County jury found Brenda Roberts guilty of accessory after the fact to murder after deliberating just one hour. Circuit Judge Frank Addy sentenced Roberts to 14 years in prison, just one year less than the 15-year maximum, noting that the case took 14 years to appear before the court.
On September 26, 2003, 76 year-old James Bolt, a much beloved Korean War Veteran, was brutally beaten to death with a hammer at the Laurens County VFW building. Roberts later washed the blood-stained clothes of the killers.
Law enforcement believes that other individuals were involved the night of the murder, and the investigation is ongoing.
Deputy Solicitor Warren Mowry and Assistant Solicitor Jim Todd presented the case for the state. Eighth Circuit Investigator Walter Bentley, who investigated the case when he was with Laurens Police Department, assisted in preparing the case for trial.
Roberts was represented by Greenville attorney Richard H. Warder.
Solicitor Stumbo praised the perseverance of those involved with the case to finally see Roberts brought to trial, including Officers Jared Hunnicutt, Joey Pittman, and Logan Kanipe and retired detective Tony Lynch with the Laurens Police Department.
"James Bolt was loved by everyone in the Laurens community and to assist those responsible for Mr. Bolts death is reprehensible," Solicitor Stumbo said following the sentencing. "We will not rest until all who were involved with this brutal murder are brought to justice."