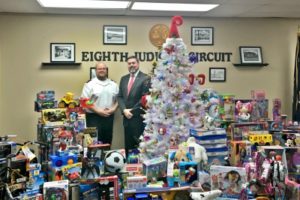 Greenwood, S.C.; December 13, 2017 – The Christmas season is often associated with merry family gatherings and celebrations bursting at the seams with yuletide glee. For many families, however, the Christmas season can be a disheartening time as parents struggle to provide a nice Christmas for their children.
On Wednesday, representatives from nonprofits across the four counties of the 8th Circuit – Abbeville, Greenwood, Laurens, and Newberry – received donations of Christmas toys collected through participants in Diversion Programs in the 8th Circuit, helping to provide those tender moments and yuletide glee for needy children in their communities.
Participants in the Pretrial Intervention Program and Alcohol Education Program can donate toys for Christmas and receive credit toward their community service hours for the programs. PTI Director Dale Allen begins collecting the toys in August and the donations continue through the second week of December, when the toys are sorted and distributed.
According to Allen, the toy drive is a unique opportunity for diversion program participants to impact their community in a positive way.
"Many of the participants in diversion programs want to be productive members of our community and don't really know how they can do that," Allen said of the program. "The eyes of a lot of participants light up when they find out they have an opportunity to help a child right in their community have a nice Christmas."
The opportunity was not missed in 2017. Diversion Program participants donated thousands of dollars of toys, including about 20 bicycles and scooters.
The toys are distributed to the Newberry County Sheriff's Office, Laurens SAFE Home, Laurens County Department of Social Services, Greenwood Salvation Army, and Abbeville Angel Tree Ministry. Those organizations see that the toys get to the children who need them.
According to Maj. Jason Hughes of the Greenwood Salvation Army, the toys donated by program participants meet more than one need.
"When you have a person who has stumbled, fallen and is trying to get back on their own and giving, there is a bigger difference than just a toy," Hughes said. "There is reaffirmation of being a part of that community. The joy and peace from both giving and receiving these toys reaffirms that they are all a part of this community and not just a person receiving a handout."
According to 8th Circuit Solicitor David M. Stumbo, the Christmas toy drive, along with the school supply drive earlier in the year, perfectly embodies the mission of the 8th Circuit Solicitor's Office's mission to balance accountability and restorative justice.
"These programs are the very heartbeat of what my office seeks to accomplish in our communities," Solicitor Stumbo said. "The Christmas toy drive and the school supply drive we hold each year allow the participants in our diversion programs to contribute in a positive way to their respective communities and learn the benefit of being a giver rather than a taker."